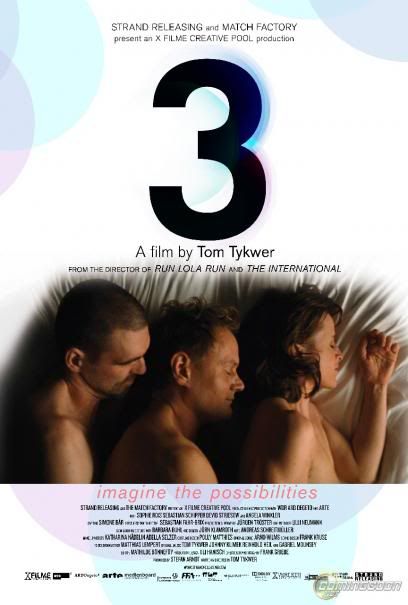 Longtime couple Hanna (Sophie Rois) and Simon (Sebastian Schipper) are chic fortysomethings in a content and affectionate but sexless relationship. Hanna, a physician, begins an affair with a fellow doctor, Adam (Devid Striesow). Art engineer Simon sees his mother die, receives a cancer diagnosis, and pursues a fling — coincidentally, also with Adam. Meanwhile, Adam has no idea that his two paramours are married to one another. The conclusion of writer-director Tom Tykwer's romantic farce 3 (German title: Drei) couldn't be more forgone (just look at the poster), but the film's ending is such an ardent, rapturous, and idealistic one that you wouldn't wish anything less for the characters.
It's hard to know what to praise first about this intellectually ambitious, visually unique, deeply felt film, so I'll start with the stem cells. Early in the film, Hanna and Adam argue on opposite sides of a medical panel about the bioethics of stem cell research. Tykwer ingeniously turns stem cells, prenatal cells that have yet to become specialized into heart or liver or skin cells, into a metaphor for the fluidity of human sexuality and personal identity. When Simon tells Adam after their first tryst that he's not gay, the pansexual Adam, an advocate for stem cell research in his professional life, tells Simon not to have such a "deterministic understanding of biology." Gay rights advocates may bristle at this rejection of genetic determinism, since much of our current understanding of and sympathy toward homosexuality is based on the essential immutability of sexual desires ("We don't choose to be gay; we're just born that way"). But 3 doesn't set its sights on gay activism; rather, its focus and message is sexual liberation free of all categorization. While humanely acknowledging the difficulty of living outside societal boundaries by quoting 18th-century German philosophy (as if Hegel needs to be invoked in something all middle-schoolers instantly understand), the film casts its gimlet eye on all sources of sexual repression, both traditional (marriage, monogamy) and contemporary (genetics).
Tykwer also reinvents the visual language of medicine and biology to startling (and often gross) effect. Amid the charming clips of old movies, tourism-friendly views of bobo Berlin, and extradiegetic scenes of modern dance, there are shots, ranging from glossy to macabre, of hospital rooms, medical institutes, Body Worlds, and surgeries in progress. In one scene, a white, tumorous testicle is cut from its slouchy, pink-red pouch and placed in a stainless steel bowl. Like I said, it's often gross. But Tykwer visually reconciles our erotic and medicalized bodies in a way that image-makers of any media rarely do. It's one of the many unexpected and frequently beautiful images and ideas that make up this thoughtful, distinctive film.