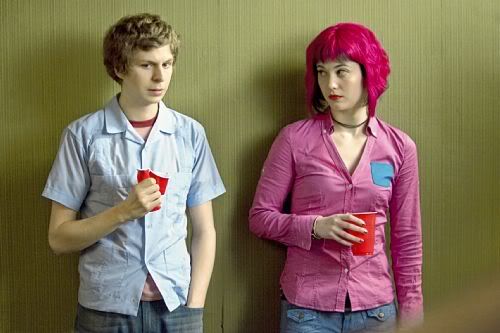 Scott Pilgrim is an adorable indie action-romance told in video game language that is far better than the sum of its genre parts.
Scott Pilgrim (Michael Cera) — just a tad less adorable than the film itself — is a 22-year-old bassist in a band that's going nowhere who's nursing a broken heart from a break-up a year-and-a-half ago.  Set in snowy Toronto, the film opens with the news that he's dating a 17-year-old high schooler named Knives (Ellen Wong), who he almost held hands with once before it got too awkward.  So far, so Cera, right?  Except that when he meets the girl of his dreams, Ramona (Mary Elizabeth Winstead), he cheats on Knives and gets to second base with his dream girl on their first date.  But now Scott has after him Ramona's seven jealous exes (not all of them former boyfriends), who want to kill any and all of Ramona's suitors, arcade game style.  (The defeated characters even turn into gold coins after their demise, à la every game you played in the 80s.)
The love story between Scott and Ramona isn't terribly compelling.  Scott's threatened (emotionally, as well as physically) by Ramona's dating history and needs to learn to be vulnerable around women again.  He's also worried that he's not cool enough for his dream girl, who dresses like she bought out everything at a Hot Topic store in 2003.  Ramona's basically a doe-eyed, neon-haired cipher, a flaky girl who knows just when to play mysterious to seem interesting.  (She might be a more nuanced character in the comic books, but I haven't read those.)  The supporting cast provide much of the film's sprightliness.  Kieran Culkin, basically reprising his role as the sassy gay teen in Saved! (is gay the new black?), gets the film's best lines as Scott's swishy-sarcastic roommate Wallace.  Wong is ebullient in a schizophrenic role that swings between Japanime caricature (complete with Catholic schoolgirl uniforms), crazy-eyed psycho, and sidekick-of-color.  And Jason Schwartzman's especially well-cast as the sleazy club owner and record executive who's Scott's archnemesis.
But if the plot isn't super-original, the winsomely nerdy way it's told more than makes up for the narrative's by-the-bookiness.  The film's visual gags are aided by a fast-forwarding editing style that keeps the jokes coming and the exposition to a minimum.  The action scenes are unexpected in their hilarity, pastiching satires of tired movie tropes with accidental boob-punching and Bollywood dance sequences.  And while the comic-book touches veer on overdone at times (no need for a "RIIIIING" when the phone is perfectly audible), most are charming and illustrate well how dealing with baggage in a new relationship can easily take on Mortal Kombat proportions.